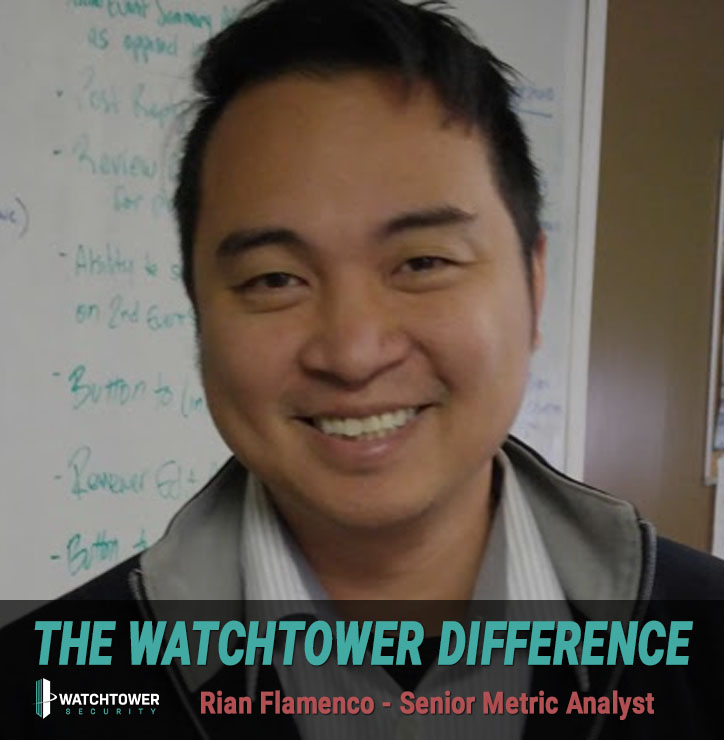 Name: Rian Flamenco
Title: Senior Metric Analyst
Where are you from and how long have you been at Watchtower?
I'm from Saint Louis, MO, and have been with the company for almost 6 years.


How did you end up in the multifamily industry and what drew you to join the Watchtower team?
I was referred to Watchtower by another employee and started as a Forensic Review Analyst. I think what drew me to the company was being able to affect change in the communities we serve. Sure, we can find which pet made a mess in a lobby, or who left a mattress in a parking lot. But I wasn't prepared for how rewarding it was to locate a subject or identify a vehicle needed for a police investigation. 

What's your job at Watchtower?
My current role involves business intelligence. Essentially, I help collect and interpret the data to help the people and departments make more informed decisions. 

What is the most interesting thing that has happened to you at Watchtower?
Being called to testify as an expert witness. As a Forensic Review Analyst, I provided footage to law enforcement needed for a homicide investigation and later had to testify on its behalf.    

What do you like most about your job?
It sounds boring, but I really enjoy working with numbers and data. There's a lot of creative problem-solving involved, like a really complex puzzle.  

What do you do for fun outside of work?

Pre-pandemic: Theater and traveling. 
Post-pandemic: Somewhat recently adopted a 10yr Shih Tzu from the humane society and am rewatching the entirety of the MCU with my wife. 

What is the best advice you have ever received?
"…for always, there is someone greater and lesser than you."  -Max Ehrmann, Desiderata
I read that on a wooden plaque during my teenage years while attending a stranger's Superbowl party and haven't forgotten it.

What's a fun fact about you many people may not know?
A best friend took me zip-lining and white-water rafting knowing that I was both scared of heights and did not know how to swim.