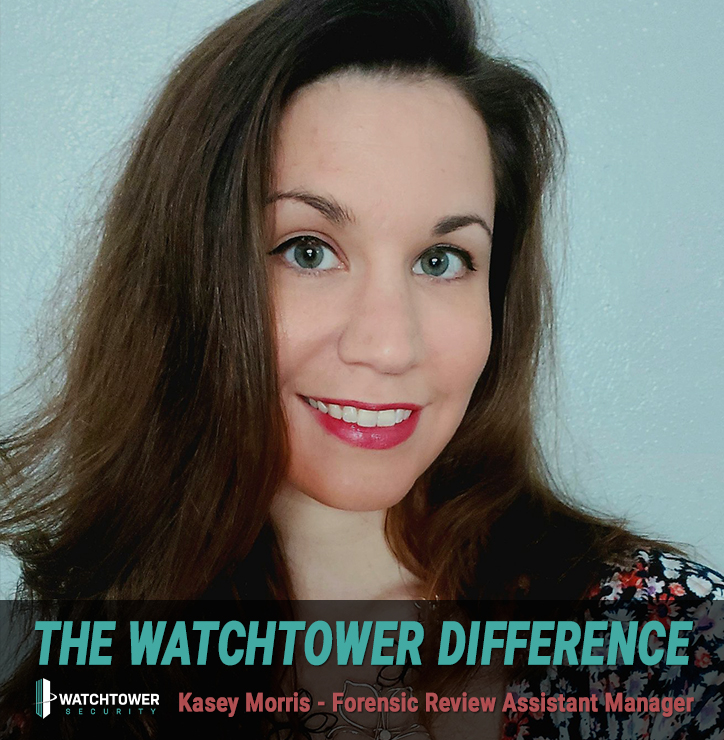 Name: Kasey Morris
Title:

Forensic Review Department Assistant Manager

Where are you from and how long have you been at Watchtower?
I'm originally from Arizona, but I moved to St. Louis in 1996, so it's safe to say I'm a St. Louisan.

I've been with Watchtower for 7 years.
How did you end up in the multifamily industry and what drew you to join the Watchtower team?
I would not have known about this job if not for social connections. I had some video production training in college, and a classmate & friend of mine was acquainted with the Review Department Manager in 2013. She told me Watchtower was looking for people who could edit video, so I applied. I'm really glad that I did because I love this job and I would never have imagined this type of opportunity to apply my knowledge of video editing.
What's your job at Watchtower?
I work in the Forensic Review Department and I manage a team of people who locate subject matter in our surveillance footage based on information provided by property staff and law enforcement. After identifying events, we compile video clips and report what happened.
What is the most interesting thing that has happened to you at Watchtower?
We see a lot of R-rated stuff on our cameras, so the most interesting things are not suitable for a public audience, ha. There was an event in my first year that sticks out in my memory because it was an organized murder that involved a blind man as part of the kill team.
What do you like most about your job?
I love the detective work aspect of my job. I get to apply my critical thinking skills (as well as some pretty sophisticated tools) to figure out how the pieces fit together, all from the safety of my computer monitors.
What do you do for fun outside of work?
Tough questions to answer one year into the pandemic. I watch a lot of TV and movies. In the before times, I was a big concert-goer.
What is the best advice you have ever received?
"Give yourself a break." I can be pretty tough on myself sometimes, and it's good to remember that I can cut myself some slack when mistakes happen.
What's a fun fact about you many people may not know?
My family structure comes with some funny coincidences. My mom married my stepdad when I was 3 years old. That marriage came with two twin step-siblings, who are 6 days older than me. We're quasi-triplets. Also, my mom's name is Jacki, my stepdad's name is Jack, and my stepbrother is also Jack.